NO 11: Complete Again!
LETTER FROM THE EDITOR:
Today, we're going to write a newspaper in October. According to Newgrounds's statistics, only a small percentage of viewers actually subscribe, so make sure you subscribe. It's free and you can always cancel it if you get bored. Enjoy!
TOP STORY: 'I AIN'T STRAININ' ANOTHER DAMN ARM AGAIN!' THE-GREAT-ONE CALLS IT QUITS
@TheTankTribune writer @The-Great-One went the entire month of September missing without a new issue of Tank Tribune. We predict that this is the perfect opportunity for rival newspapers to fill in the void.
Aside from saving you the effort of scrolling through P-Bot's daily picks from last week, recaps of supporter-only BBS threads for those too scummy to pay $5 per month for Supporter, and a selection of audio that may or may not have made it to the front page or have been forgotten about, not you're not missing out on much. But not to worry, We at Tankman Triweekly will pick up the slack. starting November. We are also going to work on a way to grow extra arms custom tailored to writing newspapers so that this drought never happens again.


JOSEPH 'LEGENDARYFROG' BLANCHETTE FILES RESTRAINING ORDER AGAINST 'ANNOYING LITTLE GINGER'
'Why haven't I done that 17 years ago?'
RE: NEWGROUNDS ZERO HOUR

October 8th 2021: 10:34 PM
Dear Mr. Guy Sir.
I would like to apply to work for your game 'Newgrounds Zero Hour'. I heard you needed a programmer. Besides, I hit a writer's block when trying to come up with new ideas, so I probably won't be making any more 'Karma Farm' skits for at least four months, so I have nothing better to do when Dave takes over my shift on the farm. You OK with that?
As for qualifications, I wrote the website for Trihicky Farms in 2012, you can go check that out. There's a little interactive menu that shows how much produce they made among other details. I haven't forgot my coding skills since then. I was hired to work on all the complicated interface shit for Farming Simulator 20, but then COVID-19 forced me out and I didn't work on the follow-up. That's when I went back to the farm with nothing better to do.
I also never shut up! When working on the platformer/sports hybrid 'Mountain Tennis' during the COVID-19 pandemic, the only time where i missed an update was when a cow stepped on my nose when I was milking her and I had to stay in bed with my face covered in oil for 10 days. I immediately addressed the situation to my co-workers and pushed myself after-hours to compensate. This never delayed the game one bit.
I hope I can give the same magic to your game like I did to these three projects. Although farming is still the thing I'm best at, did that since I was little, I'm always available to branch myself out towards the latest and greatest things of the world.
Regards:
Cleetus McBill Sr.
I had destroyed my mailbox three weeks ago, yet this guy managed to creep into my EMAIL. This is NOT MY MAIL! My name's not Mr. Guy.

Dollar store Hideki Naganuma off the street who can't do math.
Should've joined the Milk Bar Lads.
The hero no one asked for.


Today's featured audio comes from @Cyberdevil, who for Inktober, swallowed a squid in order to make these possible:
CALENDAR:
Nov 1st:
FNF 1 YEAR ANNIVERSARY PARTY: S'MORES ARE AVAILABLE
Daddy Dearest is inviting everyone except Ugby Mumba.
(Paid promotion)
Nov 8-15th:
@Derpixon is hosting a Comic Dub Awareness Week: No minors please.
Dec 1st:
A day in honor of @TomFulp's balls.
Jan 5th:
Rice Day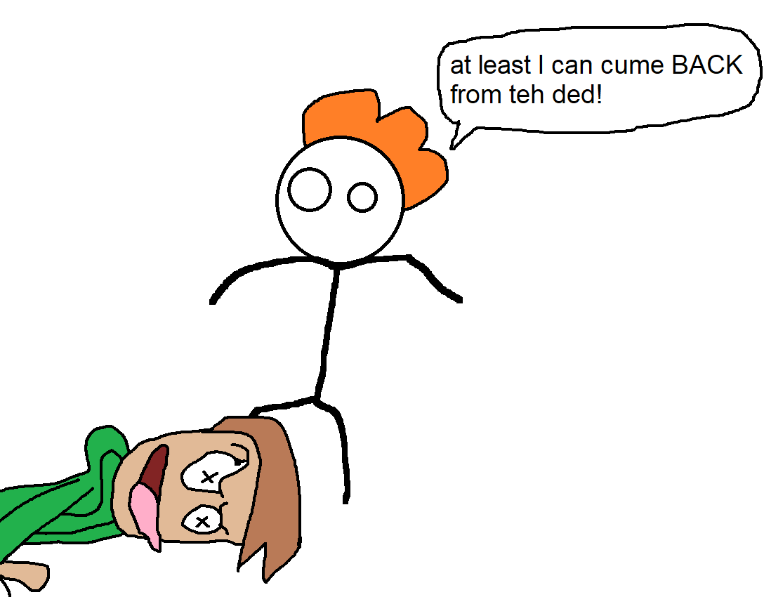 Tankman Triweekly is a non-profit dedicated to solving world genocide.
Thanks to everyone who suppoerted Tankman Triweekly on PATREON:
$5 PATRONS:
Who, Knob, Bong, Eli
$10 PATRONS:
What, The-Great-One. PingasMcDingos, Where
$20 PATRONS:
Tomorrow, Why, I Don't Know, Me
$50 PATRONS:
Today, JoeyTheMarillFan
$100 PATRONS
I Don't Give a Darn